Week 4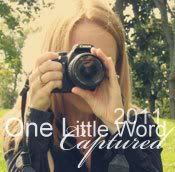 Just me, my camera and a timer. After sharing last week's photo I was determined that this week would actually be a picture of me. Note to self: truly embrace "me" and not just the concept.
A favorite quote I'm adding to my OLW album:
The journey between what you once were and who you are now becoming is where the dance of life really takes place. Barbara De Angelis
For the challenge details click One Little Word | Captured at the top of this blog.
Now, a little incentive. A $55.00 giveaway to any CSN Stores. A great selection of modern furniture and my favorite is the kitchen. 
How to enter? Simply leave a comment sharing a thought, idea, insight or any other detail about your word for 2011. The winner will be chosen randomly and will include comments from Week 4 and Week 5 of One Little Word | Captured. Commenting both weeks will be counted as 2 entries. Include your email address so I have a way to contact the winner. 
This contest will end on Saturday, January 29, 2011 at 11:59pm (EST). The winner will be announced shortly after that.
I want to say thank you to everyone for participating. I love sharing this journey with you.
Now the link up!