Week 8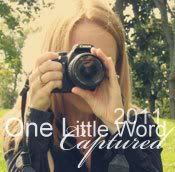 I'm also linking up at
My focus this week? The times when Embrace [who I am] is not so easy. To not allow those times to totally sideline my efforts and intentions. To expect that those times will happen. I found that the best thing for me when life feels less than great is to focus on something I love. Something that feels good mentally and physically. For me that is running.
I'm curious. What works for you when life is less than great?
For the challenge details click here One Little Word | Captured.
And the winner of the CSN $50 gift card is The Project of Me. Please send me your email so I can send you the information you need to do a little shopping. Thank you to everyone for the comments and photos of your OLW journey.
Now the link up!