One Little Word | Embrace [who I am]
One little word can have a big impact on your life. A journey shared.
A glimpse of One Little Word 2011. A glimpse of Jan - March. 
(Note: on the 2 up photo pages the top photo is OLW Captured and the bottom photo is my 52 Week Project self portraits) 
Keeping it simple and doable. A work in progress. 
And a song that my husband, Chad, mentioned to me. A song that reminds me of how he makes me feel. He loves me. The perfectly imperfect me. I just need to decide how I want to include the lyrics in the album.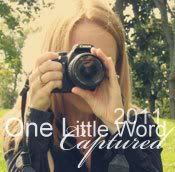 Feel free to join One Little Word || Captured  anytime. Great ideas, support, encouragement and inspiration shared by the participants. While completing each page with photos and journaling I realized that my weekly commitment to capturing EMBRACE is invaluable to the completion of this project. Simply copy and paste the journaling to complete the pages. Click the link or the button above for details.
If you're curious about past OLW Captured challenge posts click 13 weeks of OLW Captured
If you'd like to find out more about the weekly self portrait challenge visit Kim at 52 Week Project.
Relax, grab a favorite beverage and visit the blog hop blogs for a glimpse of One Little Word 2011.
If you started here, at my blog, and want to start from the beginning, go to Margie's blog at http://xnomads.typepad.com/.
Your next stop on the OLW Blog Hop is Lisa at http://makeyourownescape.blogspot.com/.
Thank you for visiting. Look for the April OLW Blog Hop on May 1.
Here is a complete list of blogs participating in todays blog hop! (Note: the blog hop will go live by all participants no later than 8 AM PST (Pacific Standard Time). Allow for adjustments in time zones.
1.Margie http://xnomads.typepad.com/blog
2.Amanda http://scrappnbee.blogspot.com
3. Donna Bryant http://donnabryantdurand.blogspot.com
4. Joy www.undiscoveredjoy.blogspot.com
5. Jan http://mysimplelittlelife.typepad.com
6. Jamie http://jmpgirl.blogspot.com/
7. Nikki http://www.inkyart.com.au
8. Monica B2 www.questtoperfectimperfection.blogspot.com
9. Cindy http://seriousplay.typepad.com
10. Stacey http://www.TheAcornGarden.com/blog
11. Katrina http://k84mansramblings.blogspot.com/
12. Rebekah http://istampscrapcraft.blogspot.com/
13. Monica http://scraplifters.blogspot.com/
14. Chrissy http://getcraftywithchrissy.blogspot.com/
15. Jill http://jillconyers.typepad.com/ <----YOU ARE HERE
16. Lisa http://makeyourownescape.blogspot.com
17. Kathryn www.katlodesigns.com
18. Jennifer www.studiojenn.blogspot.com
19. Jen www.byjen.com
20. Sam http://learncreatedo.wordpress.com/
21. Miranda http://mirandasscrapsite.blogspot.com
22. Lynn www.crafty-creativity.blogspot.com
23. Cynthia http://paperpapereverywhere.blogspot.com/
24. Cheri A http://cheriandrews.blogspot.com
25. Deb http://blakleyhomeplace.blogspot.com
26. Nicky www.seejanebake.blogspot.com
27. Karen D http://womenontractors.blogspot.com/
28. Tina http://ryzmomplus2.typepad.com/my_weblog/
29. Kimberly http://foreverdaisies.blogspot.com/
30. Abbey http://athomewiththerichardsfamily.blogspot.com/
31. Julie Ann http://julieannshahin2.blogspot.com
32. Lisa Allen http://backtoallen.com/writers_blog