A weekly blog hop for blogs that focus on overall fitness and health. A great way to share information and stories, meet new friends, find new blogs and get new followers, subscribers and readers.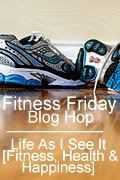 Now the link-up! I received emails asking how to use the link up. 
Link-Up 101
1. Click Add Your Link.
2. Enter the URL of your blog post.
3. Enter the name you want to appear in the link-up.
4. Enter your email (not visible or shared). 
5. Click Next Step. 
6. Select an image that will appear with your name in the link-up.
If you have any questions, don't hesitate to contact me. Enjoy!