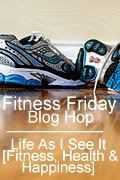 Details and how to participate can be found here Fitness Friday Blog Hop.
I have a thing for running t-shirts. I'd love to add a Nike, Make Yourself shirt and I still need to buy Strong Is the New Skinny to add to my collection.
Do you buy running shirts? Love them? Or not so much? What is your favorite?
On my mind this week:
Last Saturday I heard myself say "It's only 10 miles." When did 10 miles become "only" 10 miles?
It's taken all summer but I have officially reached my tolerance level for the heat. So done!
I challenged a friend to use a weekly menu created by me (customized for her) for 30-days to lose weight, lose inches and feel stronger. The 30 days are almost up and guess what, IT"S WORKING (photos coming soon)!!


And last but not least, to celebrate the fact that Fitness Friday has become so much more than I ever expected I'm giving away 5 more Moeben Sleeves. Entering will be 2 easy steps and you won't even have to leave [Fitness, Health and Happiness]. Watch for details next week!
Thank you to everyone that participates. I look forward to reading your posts every week.
_______________________________________________________________________________________________________
Link up below!