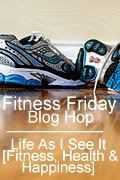 NOTE: I'm having trouble with InLinkz HTML. If the link up is not available, please leave your Fitness Friday link up in the comments. Hopefully it won't be a problem. Thanks!
Have you started thinking about 2012 yet? I set goals every year and this is a little earlier than usual, but after deciding I wanted to run 12 in 2012 (a half marathon every month) I realized it would take some planning. Since I'm a mom, wife and work full-time and taking into consideration the travel, expense, time, etc. I need to have a plan. In addition to 12 in 2012, I also want to run the Dirt Days Trail Series again, 1 marathon and 1 ultra. And if I can, a Tough Mudder or Warrior Dash type of run. Too much? Is it doable?
At this point the only definite goal is the 12 in 2012. The rest is what I'm considering as goals for next year. I'll decide for sure before January 1. In the meantime, this is how my 2012 race calendar looks as of right now.
January- 
February- 
March- 2012 Cincinnati Heart Mini Marathon; Dirt Days Trail Series 1
April- Gulf Coast Half Marathon; Dirt Days Trail Series 2
May- Rite Aid Cleveland Marathon; Dirt Days Trail Series 3
June- Dirt Days Trail Series 4
July- Dirt Days Trail Series 5
August- Little Miami Half Marathon; Dirt Days Trail Series 6
September- Air Force Marathon; Dirt Days Trail Series 7
October- Community Health Network Indianapolis Marathon; Dirt Days Trail Series 8
November- Indianapolis Monumental Marathon
December-
As you can see I still have a little planning to do. 
"The task ahead of you is never greater than the strength within you." ~Unknown
Want to join me for 12 in 2012? Have you thought about what you would like to accomplish next year with health and fitness? Do you have a favorite half marathon? Or a half marathon that you want to run? 
_________________________________________________________________________________
Now the link up!