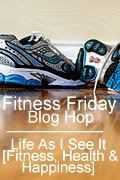 I've been training for Chicago for 15 weeks. 15 very long weeks!
A look inside my house shows, at this point in training, the distances and time are great!

I eat pasta every Friday night (before the long run).

I'm tired of eating these but I eat them anyway because they work best for energy during long runs.

Water bottles in the freezer.

My running shoes are permanently by the back door.
I'm behind on my reading my favorite magazines.
The house is not quite as tidy as I like it.
And last but not least, by Friday morning I'm exhausted. Me exhausted is not a pretty picture so no photo LOL
Are you training for a race? How does increased mileage and time affect your day to day life?
__________________________________________________________________________________________
And as I mentioned last week I have another Moeben giveaway. 5 pairs and entering is just 2 easy steps. Unfortunately if I don't get off the computer and get dressed I'm going to be late for work. I'll post the giveaway details this evening. Come back and check it out. Please!
____________________________________________________________________________________________
How to Particpate In Fitness Friday