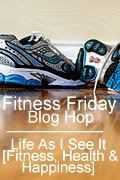 Welcome to Fitness Friday! A weekly blog hop for blogs that focus on overall fitness and health. A way to meet new friends, find new blogs and get new followers, subscribers and readers. 
Details of participating in the blog hop and button code here > Fitness Friday
This year one of my goals is to run more trail races. I didn't really expect it to be my kind of thing but after everything I read about the benefits of adding trail runs to your training plan (for road races) I decided to try. Much to my surprise I love it. It's tough. And so totally different from running on the road. The challenge is invigorating. Energizing. Want to see what I mean? The organizers of a trail race in July took photos and recently made them available online for download. 
18 Miles at Caesar Creek
Another running weekend planned. Air Force Marthon Expo Friday afternoon, my son is running Air Force 5K Friday evening and the half marathon for me on Saturday morning. Can't wait!
Back to trail running. I've mentioned before that I'm one place away from making it into the Dirty Dozen (top 12 female runners for the trail race series). I have 2 more races to move up at least one place. One is this weekend. Oh and by the way it's Saturday night at 9:00 after running the Air Force Half. I can do this! 
Have you tried trail running? Did you enjoy it as much as (or more) than road running? What are your fitness plans for the weekend? Any races on your calendar?
_________________________________________________________________________________________________
You still have a few more days to enter to win 1 of the 5 the Moeben Sleeves. Giveaway ends midnight EST September 19. Click here to enter 5 Moeben Arm Sleeve Giveaway.
_____________________________________________________________________________________