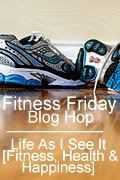 I've been training for about 20 weeks (Too long. More on that later.) for this weekend. For the past few days I have gone back and forth from so excited to majour butterflies in my stomach.
This morning, I'm eerily calm and relaxed. I'm ready (Disclaimer: the feeling of confidence and being ready is subject to change at any given moment!).

All along I planned packing for at least cool weather. Change in plans for warmer temps. Finally, this is all packed.


This is what I have worked and planned for. My Sunday morning :)
Time to link up! Share your health and fitness stories, tips and photos!