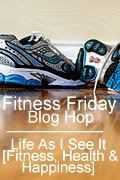 Welcome to Fitness Friday blog hop! A weekly blog hop for blogs that focus on overall fitness and health. A way to meet new friends, find new blogs and get new followers, subscribers and readers. 
Click How to Participate for the details.
Recent new-to-me that I've tried-and-love or want-to-try. 
First, tried and love...

When you signed up for a pace group in Chicago you also got a pace tattoo. This was my first time using a pace guide of any sort and while it's not totally necessary I liked having it. Loved keeping track and using it to calculate a variety of things when I needed a distraction. Plus, it was a conversation piece for people that decided not to use theirs. Do you use a pacing guide during races?
Next tried and love. iFitness Running Belts. The belts are a product that hold up to their claims of "no bounce, riding or chafing." A favorite point is that the pouch stays flat. And I love that they come with the race number holder. I have several to use depending on the type of run. Do you have a favorite fuel belt? Do you wear a water belt during races?
Now, want to try...

For the convenience and energy I've been on a mission to find a gel that I can stomach. A friend highly recommended Accel Gel and was kind enough to give me 2 to try. After doing a little research I'm going to try one of these during my next long run. Usually, just the thought of consuming a gel makes me want to gag. The texture and they're just way too sweet. I'm actually looking forward to trying Accel. Do you use energy gels? Do you have a favorite brand or flavor?
What new-to-you have you tried lately? 
_______________________________________________________________________________________________________