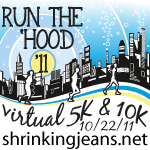 I completed the Run the Hood virtual 10k this weekend. It was one of those runs that felt simply perfect. Beautiful weather that was cool enough to wear my new shirt. I NEEDED the time by myself. Running felt almost effortless except for keeping the pace on the hills. Finished feeling refreshed and re-energized.
And by the end of the run I had decided 2 things. One, A decision that has taken me so far out of my comfort zone was the right decision. And two, I don't think I like running with a pace group as much as I thought. With Run the 'Hood I realized I started out too slow to make up for the time to end with a sub 10:00 mile. That's ok because it made me realize in a marathon I need to run the way I train. Run a negative split. With energy to kick it up at the end. I don't feel like I have that option if I stay with a pace group.

It's tradition to wear the race shirt after the race. Ignore the bad hair day! I was in such a good mood I didn't even care :)
What's next? Possibly one more race this year and that's it for 2011.
__________________________________________________________________________________________________
What did you do this weekend? Any races? A great run?