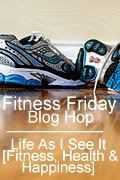 Welcome to Fitness Friday! 
For new participants click [here] for details and to grab the FF button.
Two things this week. First, remember my quest to qualify as one of the Dirty Dozen in the Dirt Days Trail Race series? I found out yesterday that I did! Not only did I qualify, I'm #10 of the dozen!
Second. My Twelve In Twenty Twelve race calendar is complete. Obviously more than 12 half mary options primarily due to winter weather concerns and traveling but also due to life just happens.
January
1/15/2012 Run for Regis Half Cuyahoga National Park, OH 
February
2/11/2012 Cedars Frost Bite Lebanon, TN 
2/11/2012 Strawberry Plains Half Strawberry Plains, TN 
2/27/2012 Last Chance for Boston Dublin, OH 
March
3/18/2012 Mercy Heart Half Cincinnati, OH 
April
4/15/2012 Gulf Coast Half Pensacola, FL 
4/28/2011 Kentucky Derby Mini Marathon Lousisville, KY 
May
5/6/2012 Cincinnati Flying Pig Cincinnati, OH
5/20/2012 Rite Aid Cleveland Half Cleveland, OH 
June
6/10/2012 Lake Health Distance Classic Concord, OH 
6/17/2012 Canton Marathon Canton, OH 
July
7/21/2012 Alexian Brothers Sports Festival Hoffman Estates, IL 
August
8/13/2012 Columbus Half* Columbus, OH 
8/21/2012 Little Miami Half Cincinnati, OH 
September 
9/15/2012 USAF Half Dayton, OH 
October
10/15/2012 Indianapolis Marathon Indianapolis, IN 
10/16/2012 Nationwide Columbus Marathon Columbus, OH 
November
11/5/2012 Indianapolis Monumental Marathon Indianapolis, IN 
11/5/2012 Mason Half Marathon Mason, OH 
11/12/2012 Louisville Sports Commission Half Louisville, KY 
December
12/2/2012 Tour de Ashland* Ashland, OH 
This is simply a guide. A place to start. And always subject to change. Between now and January 1, 2012 I will add a marathon, decide if I'm running the trail race series again and hopefully add a Ragnar relay.
I'm happy to announce Twelve In Twenty-Twelve has teamed up with iFitness. They're generously willing to sponsor up to 12 runners to take on the 2012 challenge. They've been great to work with over the past month and I'm sure next year will be no different.
Who is willing to take on this challenge? Join me in 2012! Email me for details at jillconyers@gmail.com. 
Happy Friday!
______________________________________________________________________________________________________