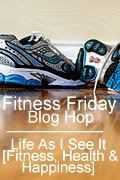 Welcome to Fitness Friday! 
For new participants click [here] for details and to grab the FF button.
Only 4 more days until I get to run again! Not running leaves me wondering what I should blog about for Fitness Friday.
I could talk about the fact that I have handled this recovery (aka not running) better than any other time in the past. 
I could also talk about how much I love Shakeology and may never be able to go back to my regular protein smoothies.
How about if I mention the envelope Chad left in my suitcase when I went to Chicago. This is part of what he wrote about. His gift to me for running Chicago, the Kindle Fire. It was delivered 2 days ago. So cool!

Maybe I could talk about starting the Holiday Bootie Buster Challenge at Run To The Finish tomorrow. It's going to be a fun way to enjoy the holidays while focusing on health and fitness too. That means way less stress for me!

Or maybe I'll just mention how much I love this and want "Defy Your Limits" on a tee-shirt and that surprising yourself is the best feeling. 
via (Pinterest Board)
I can't imagine why I thought I didn't have anything to blog about. I can always find running related things to talk about :)
_________________________________________________________________________________________________________