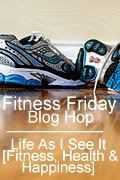 I'm out the door this morning for one of my most favorite holiday traditions, Black Friday with my daughter. Shopping, Starbucks, Panera for breakfast, the music, decorations, and even the crowds...love it all!
Before I go...
I'm back to running (see #2)! I didn't expect to feel stronger than ever :)
I'm loving the motivation of Holiday Bootie Buster Challenge 2011. If a little friendly competition is what it takes to keep me on track with the craziness of the holidays, I'll take it!
Join me every Sunday for the HBBC Link-Up. One more way to keep me accountable and focused on health and fitness during the holidays. You can also find the link in Amanda's (Run to the Finish) HBBC emails. Share your HBBC blog posts! All you have to do is follow me on Google Friend Connect and link up.
Happy Friday!
______________________________________________________________________________________________