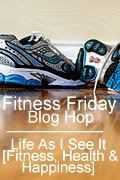 Welcome to Fitness Friday blog hop! A weekly blog hop for blogs that focus on overall fitness and health.
A year ago I decided to give up my gym membership with a plan to start working out at home and running from home. After having a gym membership for more years of my adult life than not I wasn't sure if working out at home was going to work. One year later I'm still working out at home (and running from home). Something as little as not having the travel time has made all the difference in the world with consistent strength and cross training.
And after a year I was pretty sure I would stick with it so now I have this, my happy place (the photos were taken for my running scrapbook)...

Bibs and medals. Finally, out of the drawer and proudly displayed! 
I need to hang my Chicago photo (right).


I need another frame for this photo (left) and one of Alec running his first Warrior Dash. I want to cover this entire wall (right) with "active" photos of the 4 of us.


I usually have my weekly workout schedule written here (left). This week started off kind of yuck so I needed this motivation. 




The photo on the right is a challenge from Chad and Alec. A timed 300 Workout! I can do this. Bring it!
Do you workout at home or a gym?
_________________________________________________________________________________________________